The Man Booker Prize, among the most prestigious literature awards in the world, recently came under criticism for appearing to bow under Chinese pressure to change the nationality of a Taiwanese author. Wu Mingyi's novel "The Stolen Bicycle" was put on the longlist for the International Prize for translated fiction, with Wu's nationality initially displayed as Taiwan. Lily Kuo of The Guardian has translated Wu's Facebook post: "Even though this is only the first stage of the long list, I am extremely honoured to be on it and even more so given that my nationality is listed as Taiwan. I hope this novel will allow readers to see Taiwan's history, view, and spirit."
However, two weeks later, under pressure from Beijing, Wu's nationality was changed to include "China", seen here in a screenshot from guancha.cn: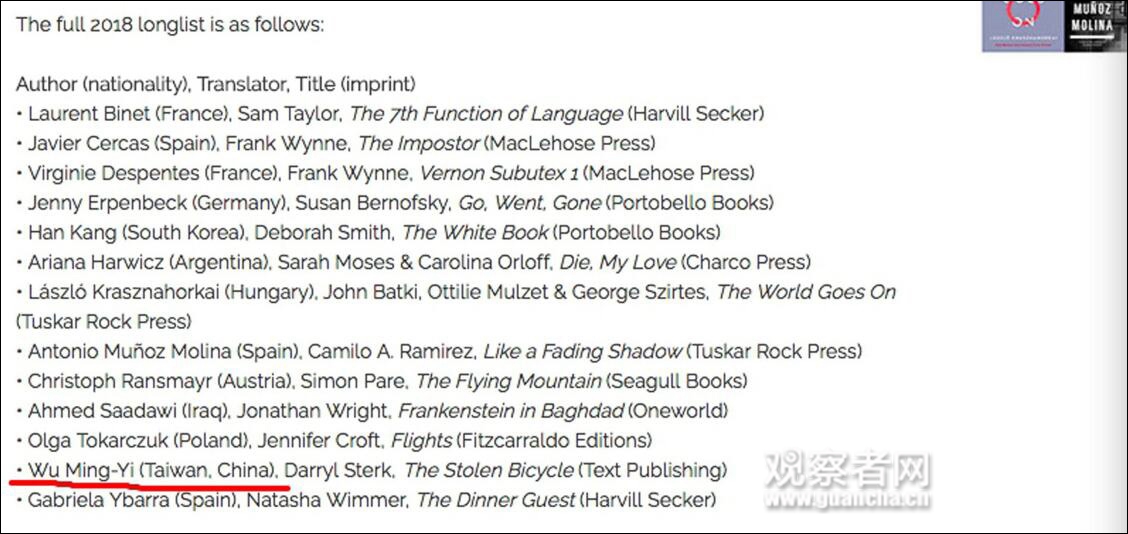 The alteration immediately received widespread backlash, with a petition made calling for Wu's country to be re-identified as Taiwan, and Man Booker's Facebook page inundated with 1-star reviews. Wu himself posted this:
(主辦單位已修改)在國際曼布克獎的長名單公布後,主辦單位網頁已將Taiwan更改為Taiwan, China。這和我個人的立場不同,我會尋求協助,向主辦單位表達我的個人立場。Since the publication of the…

Posted by 吳明益 on Wednesday, March 28, 2018
In response, Man Booker made an final alteration, again writing "Taiwan" beside Wu's name but changing the designation to "County/Territory." Wu released a further statement, as Alison Flood and Lily Kuo of The Guardian write:
Wu responded to the reversal on Facebook. "After a few days Man Booker has responded to my position. I don't believe this is a response to my will, but to the will of literature. This means the Man Booker prize has affirmed that the will of literature is based on honesty and freedom," he wrote.

"My work comes from cultures all over the world, but it relies entirely on Taiwan, germinating from this piece of land, growing and evolving … to abandon this land, this name, my work would have no basis."

The Chinese embassy, which initially complained to the Foundation about how it had identified Wu, said in a statement: "China's position on the Taiwan issue is consistent and clear. There is only one China in the world, and Taiwan is an inseparable part of China. This is the universal consensus of the international community. China opposes any words or deeds that violate the one-China principle and are contrary to the international consensus." [Source]
In fact, Man Booker's "reversal" as some publications have written, is actually more nuanced, being less of a defiance of Chinese pressure, and more of a neutral position still satisfying Beijing. The organization did not reinstate its recognition of Wu's Taiwanese nationality, but rather rephrased its list to avoid the question of nationality altogether.
Foreign companies' failure to acknowledge Taiwan and other territories as a part of China has often drawn Beijing's ire. Notable examples include the hotel group Marriott's inclusion of Taiwan, Hong Kong, Tibet, and Macau, in a guest survey (notorious for "hurting the feelings of the Chinese people"), Delta Airlines listing Taiwan and Tibet as separate countries, and fashion company Zara and medical device manufacturer Medtronic PLC doing similar.
Daimler's use of a Dalai Lama quote in an advertisement posted on Instagram subsequently forced two apologies from the car manufacturer, the first being characterized by state media as "too insincere". That Instagram is blocked to Chinese citizens via the Great Firewall was a point not considered important to Beijing, and is reflective of its increased sensitivity to any perceived slights to territorial integrity.
Through these aforementioned examples, Beijing forces foreign companies and individuals to preemptively self-censor, over fear of losing future business in the world's second largest economy, or potential legal action by the CCP itself. In November last year, a book critical of Chinese influence in Australia was pulled by its publisher for this very reason.
Meanwhile in the U.K., new details are now available about the the Royal Court theater's cancellation of a play about Tibet last fall after the British Council voiced concerns it would jeopardize the theater's ability to operate in China in the future. After Brexit, the U.K. is seeking wider trade links and is worried about harming relations with Beijing. Ben Quinn of The Guardian reports:
The West End venue – which had been criticised by the play's award-winning Indian author, who claimed the play had been shelved – said in February it had had to postpone and then withdraw the production for "financial reasons" in 2017 and that it was now committed to producing the play in spring next year.

Correspondence released under the Freedom of Information Act now reveals details of discussions about the play, Pah-La, between the theatre and the British Council, the UK government's cultural diplomacy arm.

The play's scheduled West End run, from October to November last year, would have had an impact on a joint arts programme being run in China as well as coinciding with "significant political meetings" in China, the theatre was told by a high-ranking British Council official serving as a first secretary in the UK's embassy in Beijing. [Source]
Again, there is precedent for this. In 2012 the London Book Fair included Liu Binjie, China's head of the General Administration for Press and Publishing. With prominent exiled authors not invited to attend, and amidst protests over Chinese book censorship, the U.K. was criticized for sacrificing its values of free speech over prioritizing commercial links with Beijing.